VCF-CSM40 Vacuum Current-carrying Friction Tester
From: Huahui Instrument Writer: admin Time: 2020-04-18 11:21 Click: 次
VCF-CSM40 Vacuum Current-carrying Friction Tester simulates aerospace and other special environments, and realizes the evaluation of friction and wear performance of friction pairs when they are conducting under vacuum.
Equipped with rotary mode, linear reciprocating mode and rotary reciprocating mode, these methods can be used to simulate different types of motion encountered in practical applications.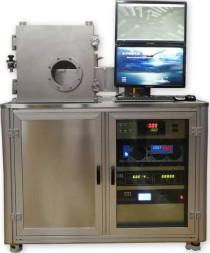 Key technical parameters
1. Chamber size:410×410×420mm
2. Ultimate vacuum:5.0×10-4Pa,Different atmosphere can be introduced
3. Current-carrying:0~20A
4. Voltage:0~200V
5. Normal force range:Up to 60N
6. Accuracy of normal force:±1%F.S
7. friction force:Up to 10 N, optional 20N
8. Friction resolution:5mN
9. Rotational motion mode:
(1) rotation speed:0.3~500 rpm, optional 1500 rpm
(2)Sample size:(5~Φ60)×(1~10)mm
(3) Maximum torque:450 mN.m
10. Linear reciprocating motion:
(1) linear stroke:Up to 60mm
(2) linear speed:Up to 100mm/s
(3) Sample size:(5~35)×(10~80)×(1~10)mm
---
兰州华汇仪器科技有限公司
Lanzhou Huahui Instrument Technology Co.,LTD.
Address: No. 582, Nanchang Road, Chengguan District, Lanzhou City, Gansu Province
Zip code:730000
Tel:86-(0)931-8264370 Mobile Phone:86-(0)13993192923
Fax:86-(0)931-8264370 E-mail:minqih@lzb.ac.cn sszhang@clhis.com